It all started with a "rancid stench". Then the authorities were called.
"You cannot imagine. It was so awful," Soary Randrianjafizanaka, the regional head of Madagascar's environmental agency, told National Geographic.
A two-story home in the city of Toliara, Madagascar had been filled to the brim with 10,976 critically endangered radiated tortoises (Astrochelys radiata).
"They had tortoises in the bathroom, in the kitchen, everywhere in the house," added Randrianjafizanaka.
The smell of faeces and urine that was emanating from the house was likely exacerbated by the 180 tortoises found dead at the scene.
A further 574 died from dehydration or infection after they were rescued and taken to a shelter.
Authorities arrested three of the poachers at the house, two of whom were busy burying the dead tortoises when the law enforcement team arrived.
"All of the team members, many of them with significant experience with the species, both in the wild and in captivity, were in agreement that this was the most radiated tortoises they had ever seen – or will ever see – in their lifetime," reported the US-based Turtle Survival Alliance (TSA), which is currently in charge of the rescue efforts.
The sheer size of the haul has led authorities to suspect there is a "big boss" of the poaching operation still at large.
This sort of problem isn't anything new. Just like their name suggests, radiated tortoises have beautiful shells, with unique yellow markings arranged like sun rays or stars.
Unfortunately, this makes radiated tortoises valuable targets for poachers and smugglers, who collect them for the pet trade and their livers, which are used in Chinese medicine.
As a consequence, over the past few decades, the numbers of these animals have shrunk to dangerous levels. In 2013, it was estimated that there were six million of these tortoises left, which is a far cry from the 12 million that were around in the 1990s.
Today, the population is likely closer to 3 million, said Rick Hudson, president of the TSA.
"They're being harvested at what I'd call an alarming, catastrophic rate," he said.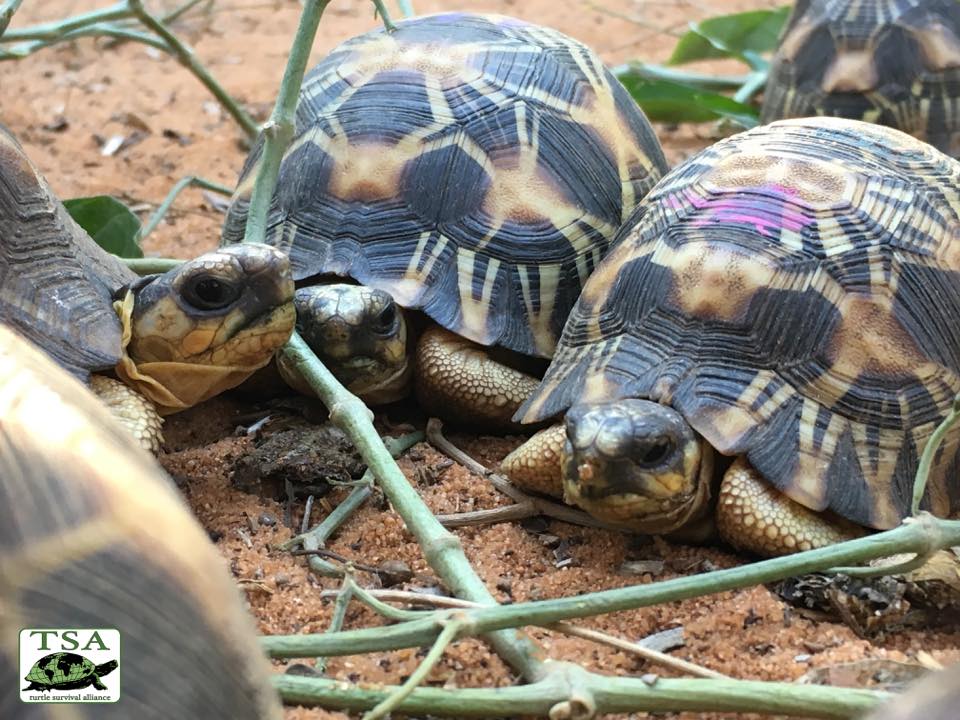 (Turtle Survival Alliance)
And while Hudson said he was shocked by the sheer number of turtles found in this one house, he also found it "totally believable."
Madagascar's rocky political system and its recent economic hardship has placed environmental protection efforts at the bottom of the government's totem pole. Radiated tortoises, which are indigenous to the island, are suffering as a result.
In 2015, for instance, authorities confiscated 453 live radiated tortoises from the international airport. And in 2016, 316 radiated tortoises were seized in southeast China after they had been smuggled from Madagascar.
With such rampant poaching still occurring in the region, it's unlikely that the 10,000-some tortoises will be released back to their old habitats.
Until Madagascar can start enforcing the current laws that protect this precious species, this tortoise species' best chance for survival will be in captivity.